Empecé a jugar World of Warcraft ahí por Febrero del 2007, un mes después de que saliera la expansión de Burning Crusade, y hasta este año seguía activo. Bueno, técnicamente sigo jugando: ya no estoy subscrito pero he seguido pagando con oro del juego (el plan es dejar de jugar WoW cuando se acabe el oro en un par de meses). Pero he pasado tanto tiempo jugando (y con tan buenos recuerdos) que no podía dejar el juego sin sacar un pequeño recuerdo: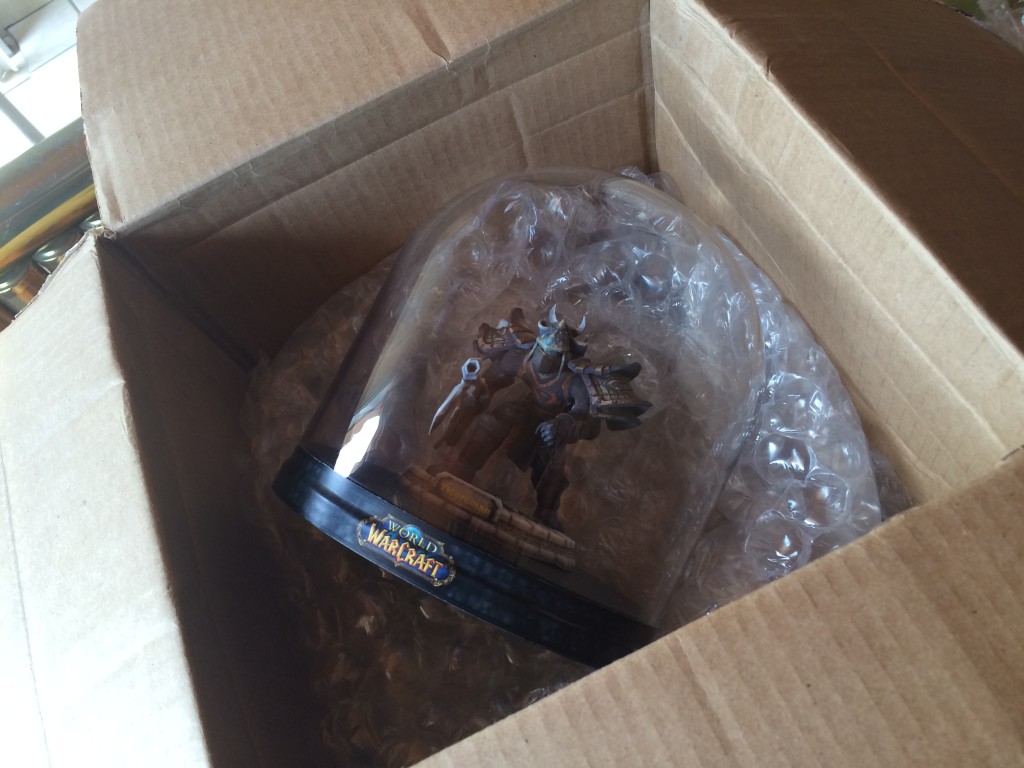 Sí! Mandé a pedir una estatuilla de Ticorcman, mi personaje principal y el primero que creé para jugar WoW, cortesía de FigurePrints (que no nos paga el patrocinio, pero pudiera!)
Confieso que hacer este pedido me puso algo nervioso. FigurePrints cobra $130 USD por hacer una estatuilla como la que pedí, pero obviamente antes de soltar el dinero me puse a investigar si el servicio era bueno. Lo que me preocupó es lo poco que encontré en cuanto a clientes satisfechos/enojados, si todavía estaban activos, o la calidad de las figuras. Lo más reciente que encontré fue de un tipo en foros de Blizzard que aseguraba que había pedido una estatua ahí por Febrero de este año. Bueno, al menos hasta ese punto seguían funcionando así que hice el pedido.
El proceso es más o menos así: primero crean una cuenta en FigurePrints, que es gratis y toma cinco minutos máximo. Luego se van a World of Warcraft y se meten al personaje que quieren recrear en forma de estatua, y le ponen toda la armadura que quieren que se vea en el producto terminado. Escojan bien su set de armadura y el arma que va a estar cargando, luego se salen de la cuenta de WoW y regresan al sitio de FigurePrints. Ahí se meten al perfil recién creado e ingresan el nombre del personaje, servidor y región en que se encuentra: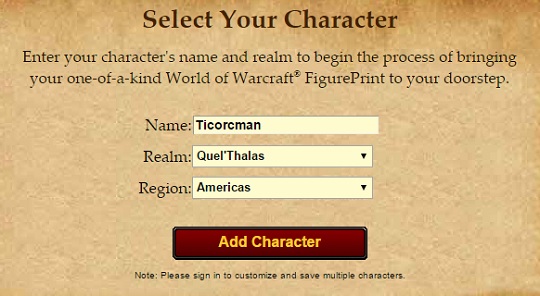 En ese momento FigurePrints captura los datos de su personaje y los guarda en sus propios archivos (Creo que es buen momento para aclarar que esta compañía no es parte de Blizzard, no es como que obtienen los datos de los servidores de WoW directamente sino que usan lo que sale públicamente en Battle.net) Luego de eso le pueden especificar cómo quieren que vaya posada su figura y otros detalles, y hacen su pedido. Para hacer la estatuilla usan un 3D printer usando el proceso que describen acá:
Si hacen el pedido, les advierto desde ya que tarda bastante el proceso. Yo puse la orden a principios de Junio, y es hasta casi dos meses después que la recibo. Al par de semanas envié un correo a la gente de servicio al cliente y me respondieron rápido sobre el estatus de la "estatuas" (hasta me escribieron que la estaban adelantando un poco en la cola para entrar a producción… probablemente falso pero me hizo sentir mejor porque al menos daban señas de vida).
Justo hoy fui a traer el paquete, así que les dejo mis impresiones: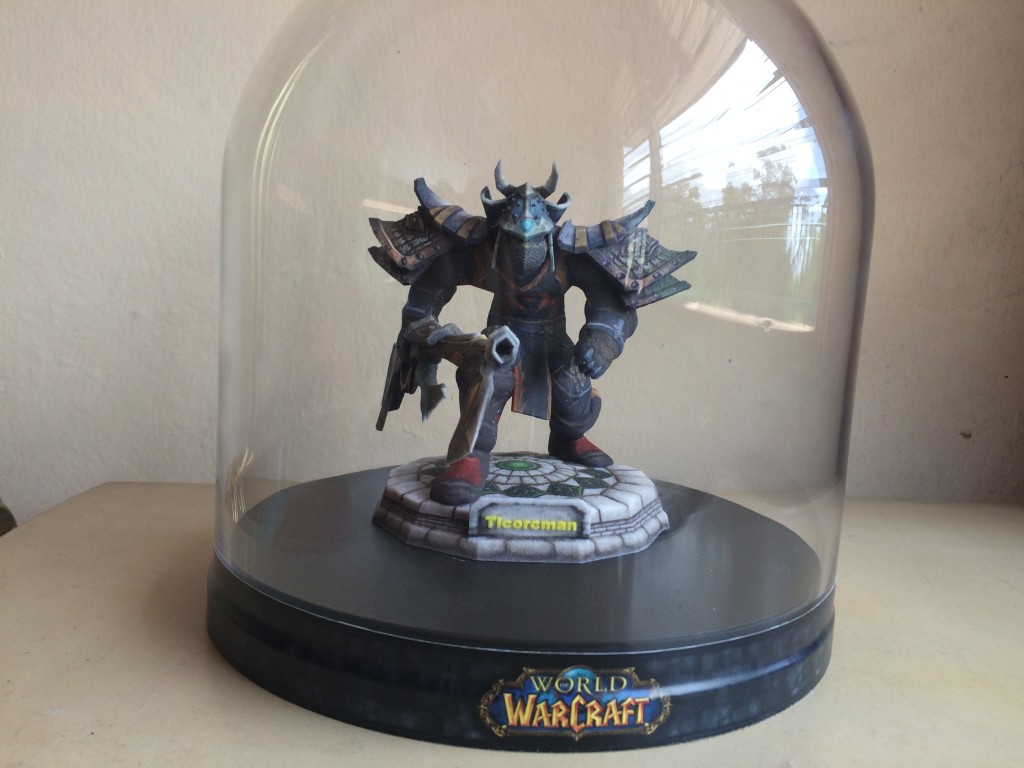 En sí la estatua mide unos 13 cm de alto, pero viene en un domo de vidrio (algo pesadito, ahí no escatimaron) de unos 20 cm de altura. Notarán en la foto del principio del artículo que venía bien empacada, difícilmente se podía dañar en el camino (mi principal preocupación, que viniera con alguna parte quebrada)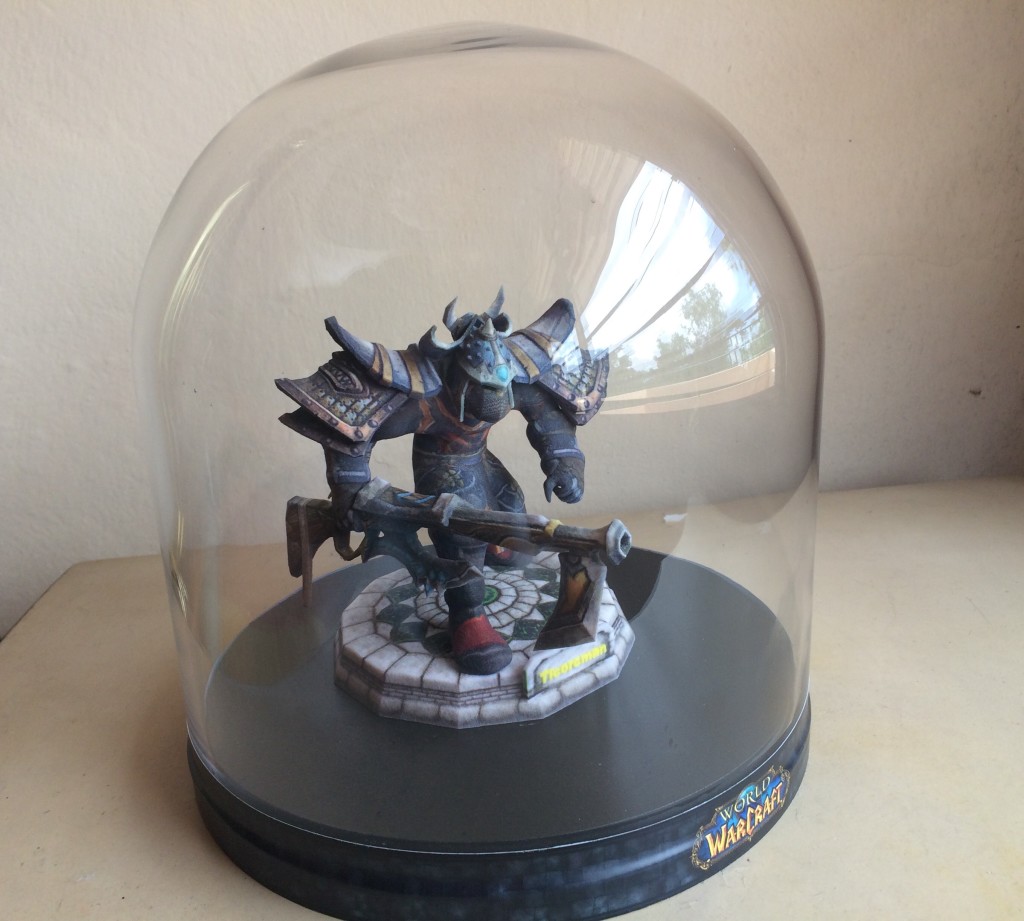 La pose, el arma, y los detalles de armadura son justo como los especifiqué al hacer el pedido. No es pintada a mano (según como lo describen en el video), sino que el color se imprime directo a medida el impresor 3D agrega las capas. Por este motivo siento que los tonos quedan algo apagados, no tan vibrantes para mi gusto.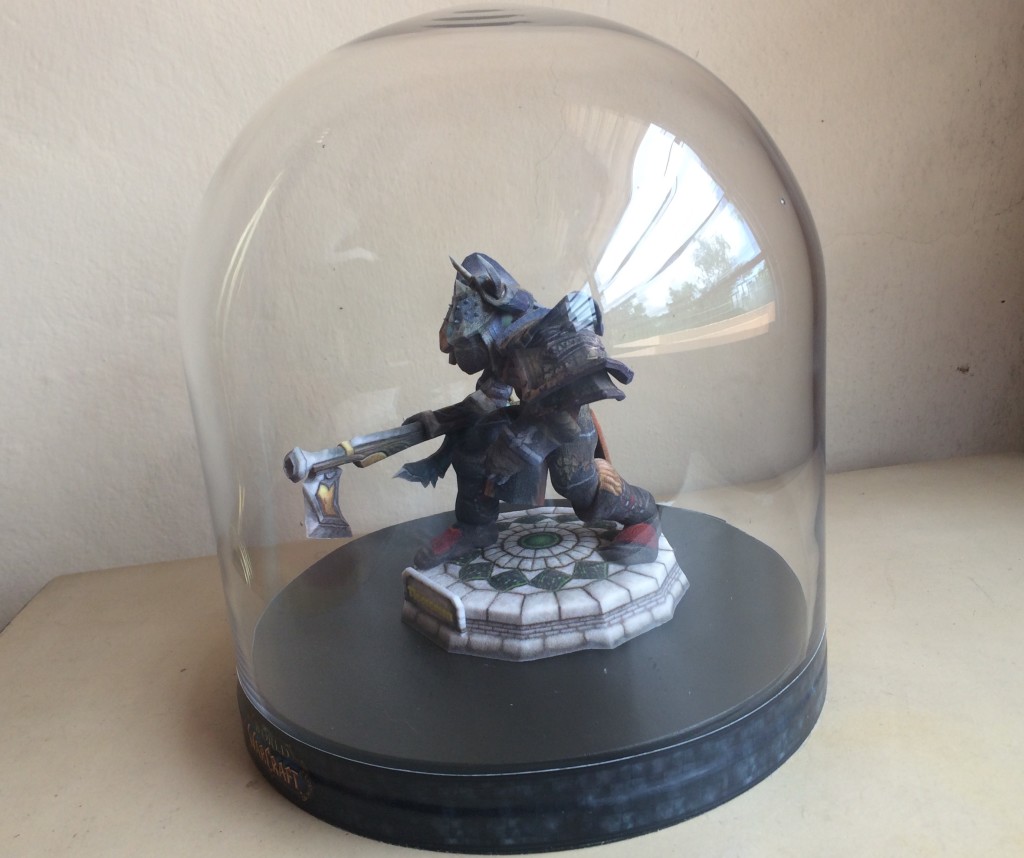 Pero en general estoy muy feliz con la estatua, sólo tengo el problema de encontrar espacio en alguna repisa para desplegarla como se debe. Es un digno recuerdo del juego y el personaje que me tuvo entretenido por tanto tiempo