Ya pasó Blizzcon y la respectiva ola de anuncios, así que podemos hacer el post-mortem de lo que más nos interesa: la nueva expansión de World of Warcraft! Ya Rubén nos posteó el video del anuncio, pero… qué ondas ahí? Exactamente qué nos traerá de nuevo?
Según el enlace en YouTube:
Lucha contra y junto a las leyendas en Warlods of Draenor, la quinta expansión de World of Warcraft. A través de las salvajes junglas y planicies marcadas por la lucha, los héroes de Azeroth entrarán en un conflicto mítico con místicos campeones draenei y poderosos clanes orcos, además de que se enfrentarán a personajes como Grommash Grito Infernal, "Blackhand" y Ner'zhul en la cúspide de su poder primigenio. Los jugadores deberán explorar esta tierra hostil en búsqueda de aliados que los ayuden a construir una defensa urgente contra la formidable máquina de conquista de la Horda de Hierro; de lo contrario, verán repetir de nuevo la historia sangrienta de su propio mundo destrozado por la guerra.
O sea que viajaremos en el tiempo… otra vez. Ya hemos participado en peleas legendarias de Warcraft gracias a lasinstancias de las Cavernas del Tiempo, pero esto de ir al pasado nunca ha sido el enfoque de una expansión completa.
Según este artículo (basado en lo hablado en los paneles), crearemos una línea de tiempo alterna en la que los orcos de Draenor (su planeta natal) nunca bebieron sangre endemoniada para convertirse en esclavos de la Burning Legion. Esto no significa que se quedan tranquilos en su mundo, siempre tienen sed de conquista pero hoy por su cuenta y no como parte del ejército de alguien más. Para no caer en (tanta) paradoja he leído que algunos orcos siempre se hacen aliados de los demonios, justificando su existencia en nuestra línea de tiempo.
Eso en cuanto a la "mitología" del juego, pero qué hay del juego en sí? Pues entre lo anunciado:
Sube el nivel máximo a 100
Interesante porque las 2 últimas expansiones habían sido saltos de 5 niveles, no de 10.
Cambios enormes a las armaduras
Realmente van a ser cambios significativos… no sólo quitan algunos bonuses de armadura (hit y expertise) e introducen nuevos, sino que cambian la forma que funcionan las piezas que caigan. La situación actual es que una pieza de armadura trae incluída su bonus al ponérsela el jugador. Es decir que si cae un guante de cuero y vemos que trae +agilidad y +stamina (por decir algo) sabemos que esa pieza entonces sólo le sirve a clases como druidas, rogues o monjes que le sacan provecho a esas características. Y aún más, sólo le servirían a un druida en modo feral, por ejemplo… un druida curandero no usa agilidad, sino que se va por intelecto.
Post-Draenor, la cosa será asi: Cae un guante de cuero y, si se lo pone un druida feral, le dará agilidad. Si el druida se pasa a curandero, el mismo guante cambiará automágicamente a intelecto! Esto nos ayudará a prepararnos para raid y a llenar múltiples roles más rapido, pero también creo que hará más salvajes las peleas por piezas de armadura (ya que hoy cualquier pieza que caiga es una posible mejora).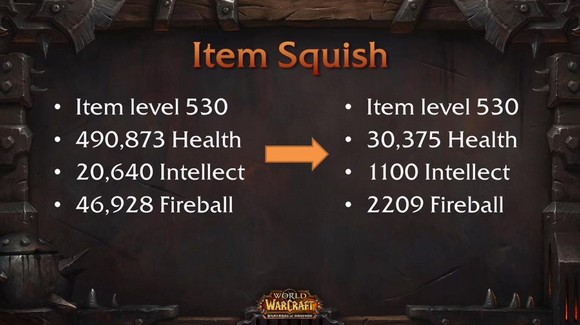 Recalibración del daño
Con nuestro nivel actual y nuestras armaduras, es común que tankes tengan casi un millón de puntos de vida, que los DPS hagan 200,000-300,0000 puntos de daño promedio, y que los curanderos sean capaces de curar cientos de miles de puntos de vida. Qué va a pasar en nivel 100? Acaso veremos miles de millones de puntos de vida en algunos personajes? Pues… no. Va a haber un "squish" en donde si hoy hacemos 100k de puntos de daño, post-Draenor haremos…4k-5k. No nos sentiremos tan poderosos pero como la recalibración afecta todo, incluyendo enemigos, no es como que estaremos desamparados.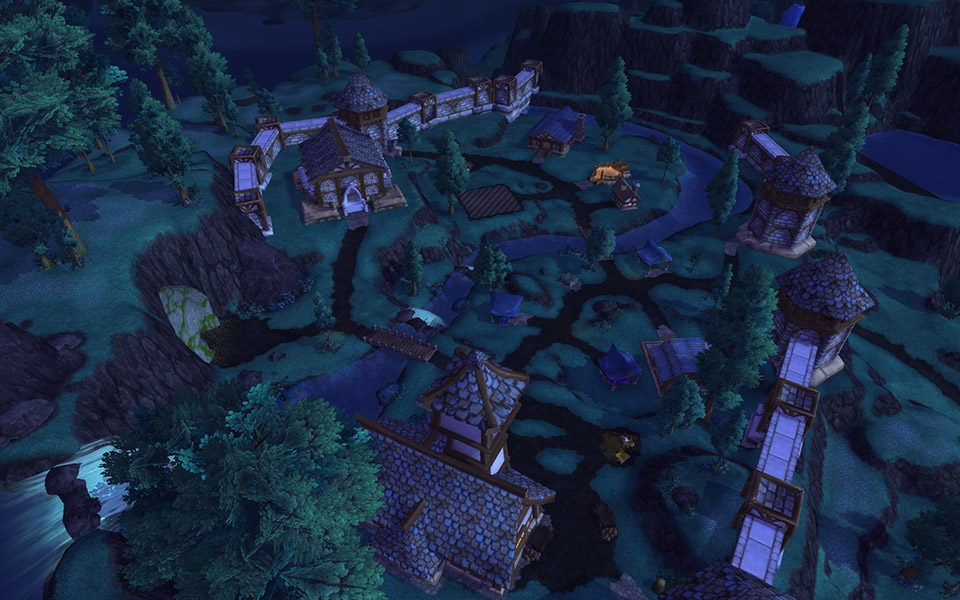 Guarniciones
Esto es similar a la granja que podemos usar en Pandaria para sacar materiales, pero mucho más expandida. En vez de un pequeño terreno para plantar, tendremos nuestra propia fortaleza con áreas para cada profesión, y seguidores hasta irán en misiones para nosotros… Suena interesante pero si ya paso como media hora al día sólo viendo que voy a plantar en mi granja, no sé a qué horas esperan que maneje todo un complejo industrial bélico.
Cambios a Raid
Esto sí me parece muuuy bien, ya que los cambios a raid benefician bastante al guild Comicgeekos. Las cosas se simplifican con 4 niveles de dificultad: LFR (para la gente que quiere ver el contenido sin contar con un grupo de raid), Normal, Heróico, y Mítico. De los 4 niveles los primeros 3 serán tipo flex, o sea que se podrán hacer en grupos de 10-25 personas, y los encuentros cambiarán su dificultad automáticamente dependiendo del tamaño del grupo.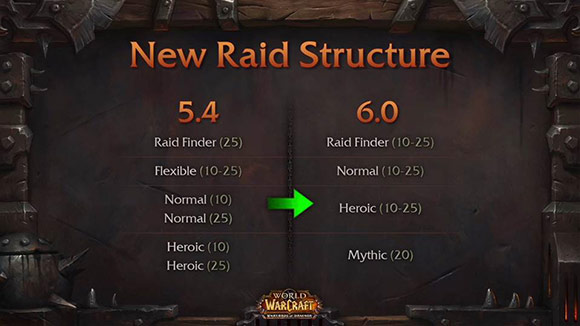 Esto nos beneficia ya que en nuestro grupo siempre anda algún miembro con problemas de horario, y antes de la introducción de flex nos tocaba suspender el raid semanal cuando faltaba alguien. En el otro extremo, nos tocaba dejar gente fuera del raid cuando llegaba el grupo completo y tal vez se nos quería unir otro jugador que llegaba después. Como todo será tipo flex no será problema entrar en modo normal (o heróico, hehe) independientemente de la cantidad de gente del guild que llegue (nunca hemos pasado de 25 así que no hay problema en ese sentido)
Y mas…
Aparte de todo esto está todo el asunto de nuevas zonas, más misiones, áreas de PVP, y… nuevos modelos de personajes!  Si, han actualizado las gráficas de los personajes más antiguos, cosa que emociona a muchos (a mí no tanto ya que de todos modos siempre ando mi pantalla con el zoom al máximo de distancia que puedo, así que no es como que vea a los personajes de cerca).
En general los cambios han sido bien recibidos, a diferencia de cuando anunciaron los pandas cuando muchos se quejaban que no los podían tomar en serio como personajes.  Claro, siempre hay detractores pero se oyen mucho menos que con la expansión anterior.
Esperamos más noticias a medida se acerque la fecha de lanzamiento de la nueva expansión!